Personal protective equipment (PPE) such as face masks may be vital for human health and safety – but what is PPE waste doing to our environment? What if PPE could be designed to not only protect us, but also have a positive impact on our planet?
Deakin University's Institute for Frontier Materials, as part of Geelong Design Week this year, will host a major online event: "A Circular Approach to a Pandemic – Designing Out PPE Waste".
The event on Monday, 22 March, presents a timely design challenge to teams of researchers who will pitch their re-imagined solutions underpinned by circular economy principles.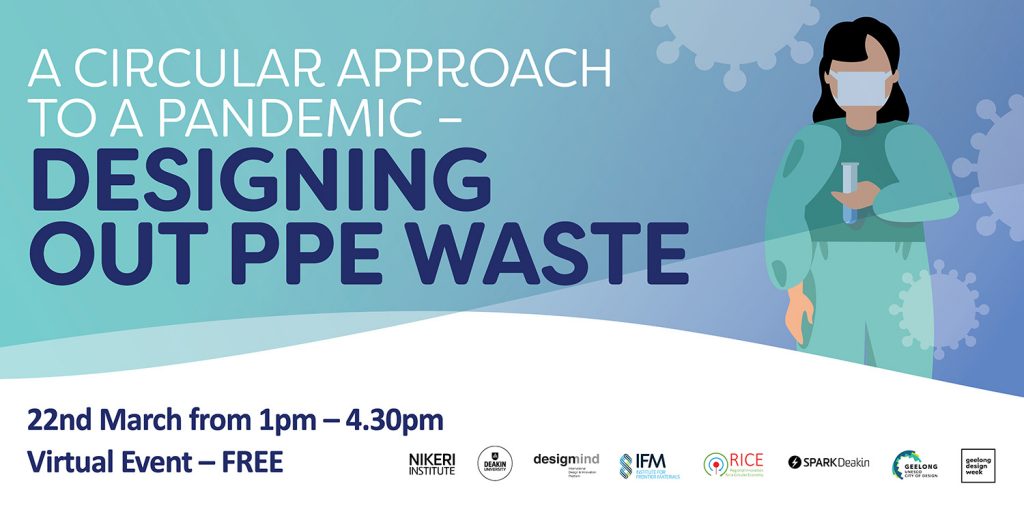 A cross-disciplinary panel of experts will evaluate their solutions and provide each team with feedback, followed by a discussion exploring the role of design and system thinking in driving a truly circular economy for a sustainable future.
Geelong Design Week, an initiative of Geelong UNESCO City of Design and the City of Greater Geelong, features exhibitions, workshops, tours, open studios and more to showcase the Great Geelong region's creativity and ingenuity.
The goal of this design challenge was to re-design personal protective equipment (PPE), specifically disposable face masks.
To tackle this issue, three teams consisting of PhD students from Deakin University will pitch their re-imagined face mask designs which they have been developing since late last year. Teams were encouraged to consider not just the functionality of the mask but also user experience and cultural implications of their designs. Along their design journeys, they have received mentoring and feedback from a myriad of mentors including experts in materials science, design, architecture, culture and communications.
Audience members will be invited to participate in feedback and discussion via Mentimeter.
The event will take place on March 22. You can register for this free online event HERE.
Registrations are essential. Zoom details will be provided closer to the event.