Virtual Expo with Germany: 2020-21 Event #04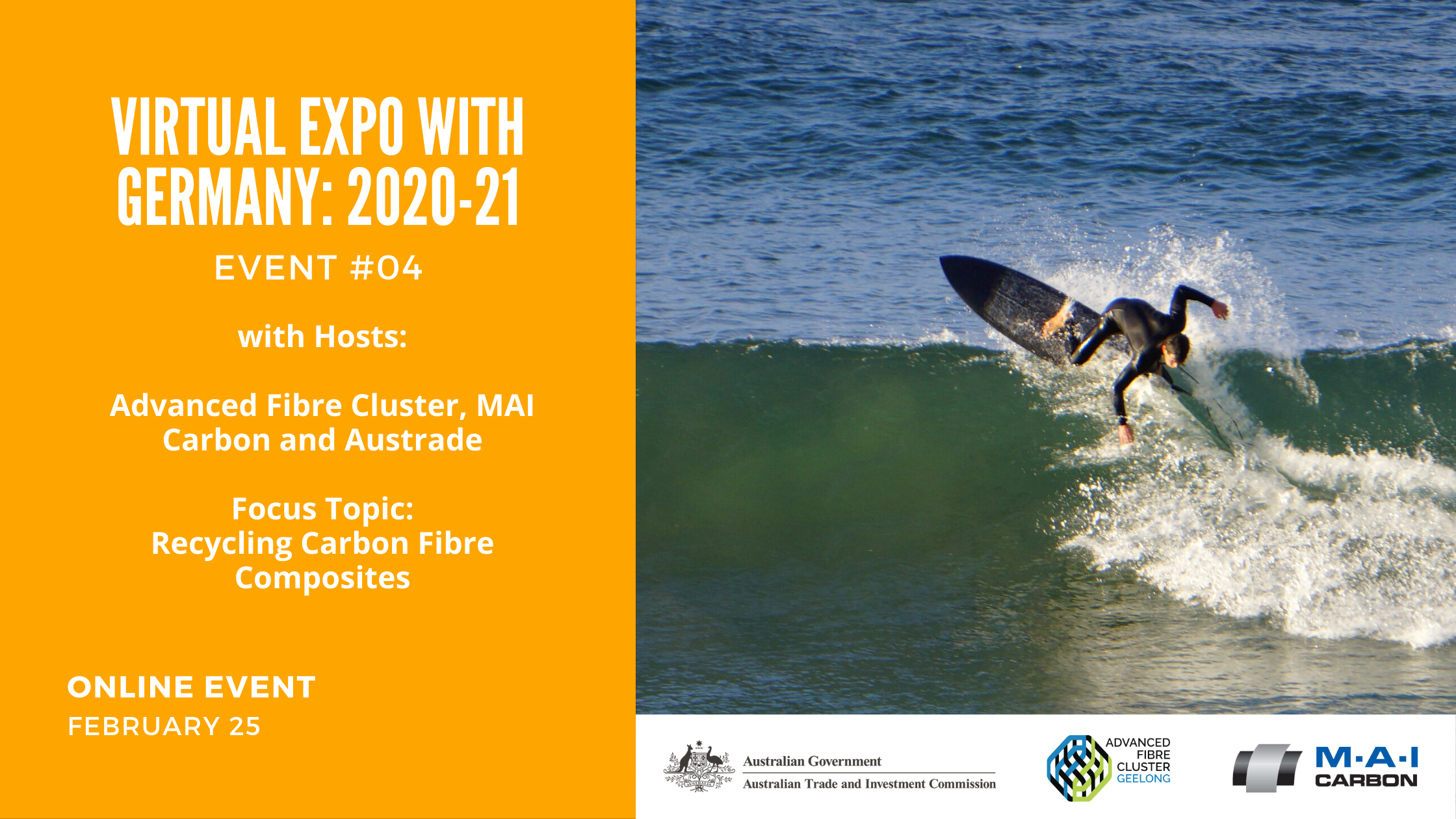 A series of webinars highlighting the opportunities available through Germany's
MAI Carbon
cluster and Australia's
Advanced Fibre Cluster
. In this 4th event, we focus on recycling of carbon fibre composites Registration details below.
In this latest event, Advanced Fibre Cluster member, JUC Surf, will present as part of the annual German Composites Recycling Congress on February 25, a virtual event for the first time. Co-founder of JUC Surf and Carbon Nexus PhD candidate, Andreas Hendlemeir, will be speaking to a broad international audience at 2300 hrs (11 pm) AEDT, on the topic, "Recycled Carbon Fibre Surfboards: Waste to Waves".
Andi, a graduate of the University of Stuttgart and now living in the Geelong region, will be one of a number of presentations in English.
Click HERE to download the full program. 
The registration link below will direct you to the German registration site. After completing the required fields (those with an asterix) please click on "Send Invoice" and you will receive email instructions from our collaboration partners. Participation is FREE. (There is a charge if you want to receive a copy of the Congress presentations. For any inquiries, please contact Stefan Steinacker: stefan.steinacker@composites-united.com)
REGISTER HERE: https://db1.carbon-org.com/order/510649
This is the 4th in our series of webinars highlighting the opportunities available through Germany's MAI Carbon cluster and Australia's Advanced Fibre Cluster, with support from Austrade, the Australian Trade and Investment Commission.
In celebration of this collaboration, our Virtual Expo Series looks at outstanding businesses, research capabilities and innovations.
The German-Australia collaboration in carbon fibre technology is designed to encourage a dialogue between participants and identify new business opportunities, knowledge transfer, and research & development opportunities in both markets.