Shaping Solutions: Carbon Revolution Leading the Way Towards Local CF Recycling
May 12, 2021 @ 9:00 am

-

10:00 am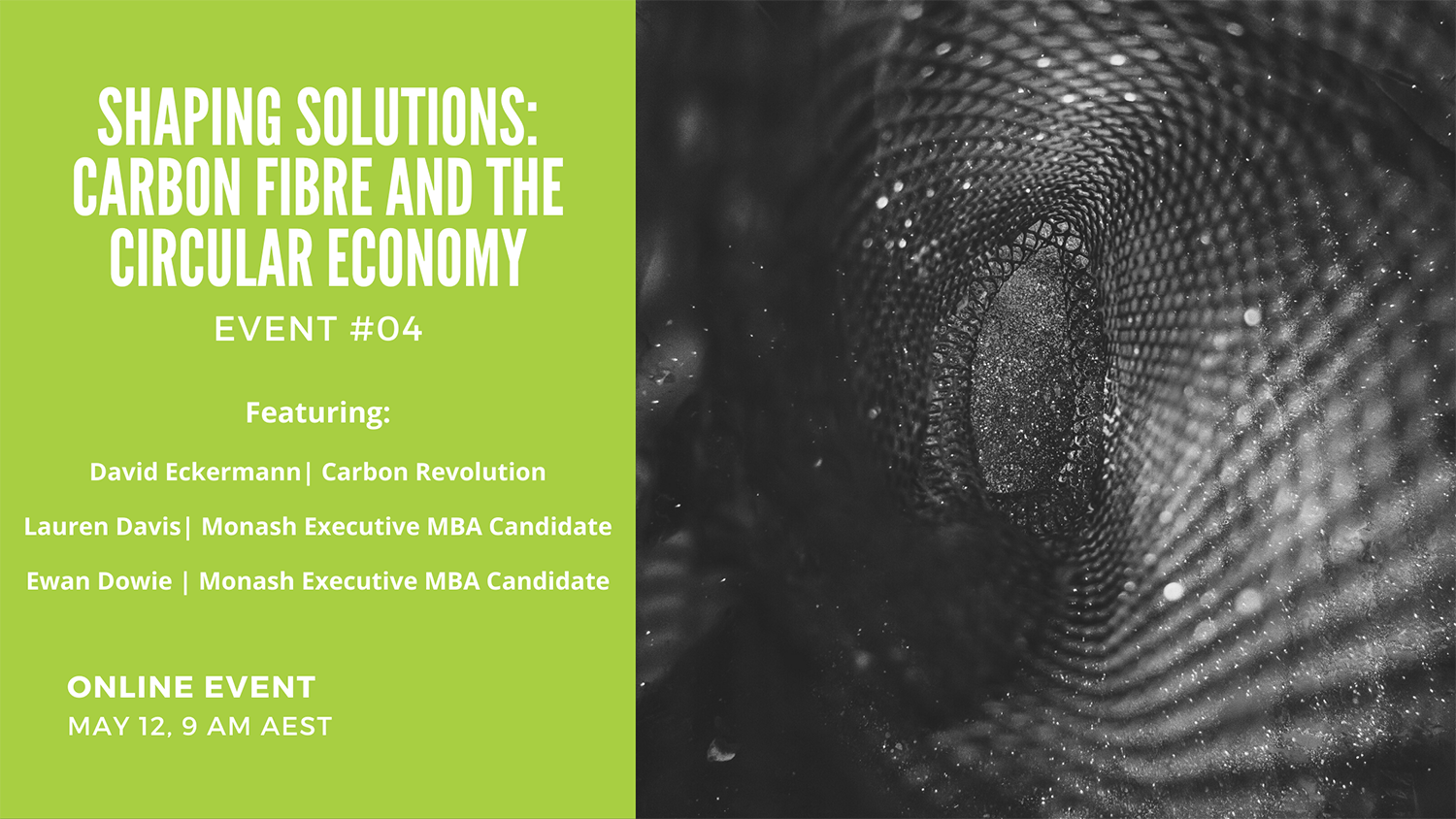 Carbon Revolution, a leading Australian carbon fibre automotive component manufacturer, is proactively seeking ways to improve sustainable outcomes in the industry. Carbon Revolution recently sponsored a research project focusing on what would be required to grow a carbon fibre (CF) recycling industry in Australia.
A team of Executive MBA students from Monash University engaged broadly across Government, Research Institutions and Local and International carbon fibre manufacturers and recyclers to understand the challenge, and develop a suggested roadmap for CF recycling.
Join this exclusive AFCG-hosted discussion to understand more about Carbon Revolution's current environmental strategic focus, how the company is working to help address sector-wide challenges, and the key findings of the EMBA research team.
This is the fourth event in our ongoing Shaping Solutions series to promote a broader discussion about the role we can all play in driving towards a sustainable advanced fibre industry.
About Carbon Revolution.
Carbon Revolution is an Australian company, which has successfully innovated, commercialised and industrialised the supply of Carbon Fibre wheels to the global automotive industry. The founders of the company have progressed from single prototypes to designing and manufacturing the highest performing wheels for some of the fastest cars and most prestigious brands in the world. As a global leader in light weight wheel technology, Carbon Revolution continues to innovate and improve the performance of its automotive technology and diversify by applying its technology to aerospace and industrial applications.
About the Speakers:
David Eckermann
David is the Plant Logistics and Environmental Manager for Carbon Revolution, responsible for all ISO14001 certification and compliance. Leading the scrap fibre project within Carbon Revolution. Currently conducting a global search for recyclers that can assist with this problem. 
Lauren Davis
Lauren is a current GEMBA candidate at Monash University. Lauren is the regional lead for Innovation for a multinational Engineering and Advisory company and brings expertise in innovation processes and stakeholder alignment. Lauren is based in Melbourne.
Ewan Dowie
Ewan is a current GEMBA candidate at Monash University. Ewan is the head of production for a major pharmaceutical organisation and brings expertise in manufacturing process efficiency. Ewan is based in Melbourne